The Lincoln Reagan Dinner 2021
September 18, 2021 @ 5:00 pm

-

9:00 pm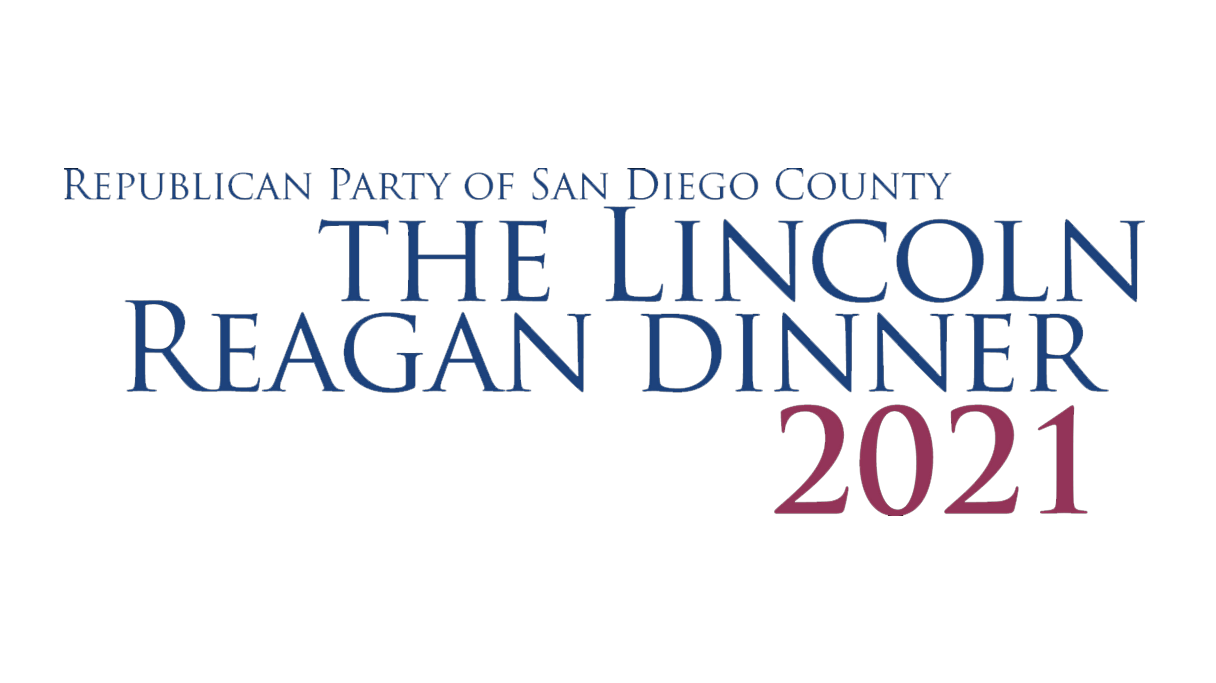 The Republican Party of San Diego County's 2021 Lincoln Reagan Dinner will take place on Saturday, September 18 and is one of the largest Republican Dinners in America, bringing together more than 500 business and political leaders from across California.
It is THE do-not-miss event of the year for top elected officials, candidates, companies, business leaders, and affiliated groups. Every key leader in one room – at one time.
This year's Dinner will be held at the Marriott Marquis in Downtown San Diego, featuring our annual awards ceremony, a keynote address, and a fantastic Cigars & Cocktails After-Party with entertainment by San Diego's own Roman Palacios.
The Republican Party of San Diego County raises and spends $2-4M each cycle in support of its endorsed candidates, is called "The Gold Standard" by California Republican Party Former Chairman Jim Brulte, and USA called us "one of the best-organized and active local Republican Parties…"
The Lincoln Reagan Dinner is an opportunity for every major Republican elected official, business leader, and affiliated group to "raise their flag" with a table sponsorship and show support for our local TEAM.
Looking around the room that evening will be a powerful display of everyone who  is stepping up to be part of TEAM FREEDOM.
​
​
Ticket sales will open soon.
Please let us know if you are interested in purchasing tickets or sponsoring a table.
​
IMPORTANT: Individual tickets will be released on Monday, August 16th, subject to availability, priced at $250/pp – all-inclusive, save for parking. VIP tickets are priced at $500/pp which will include a VIP Reception, Photo Opportunity, and Gold Sponsorship Level Seating. Signing up below does NOT obligate you to anything. It just means you will be the first to be notified once individual tickets go on sale.
The Lincoln Reagan Dinner is likely to sell out so consider sponsoring a table or hosting a table. Sponsoring a table means you pay for the table and invite your friends while "hosting" a table means you take point on a $2,500 Silver table of 8 to gather 8 individuals to each kick in $312.50 which they can pay for individually. As either a sponsor or host you get to name the table and will be listed as such during the Dinner.
If you have any questions about sponsorship or hosting contact Jordan Gascon, Executive Director, at 619-300-3067 or via email at jordan@sandiegorepublicans.org.
​

Interest Form
Individual Tickets Interest Form Thursday, September 3
at the Marriott Marquis, Downtown San Diego
5 pm Reception | 6 pm Dinner | 8 pm "Off-the-Record" After-Party
Dress Code: Business/Cocktail Formal
Check the FAQ for more info. Step up as a sponsor (tables start at $2,500) or purchase your individual tickets ($250/pp) today.
This event WILL sell out.
You may reserve your hotel room at a discounted rate below.
​​
Reserve Your Hotel Room Today
Past guests include Governors Matt Bevin, Pete Ricketts, Susana Martinez and Luis Fortuno, and Senators Tim Scott, Rand Paul and Mike Lee.
Check out the recap videos below…
2019 Dinner
2018 Dinner
2016 Dinner
2017 Dinner
2015 Dinner