---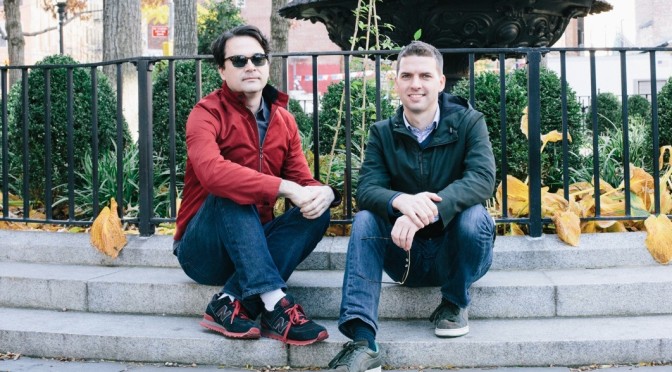 Above, Greg (left) and Tom (right), as featured in an interview on WarbyParker.com.
The Bowery Boys are Greg Young and Tom Meyers. We've been recording the Bowery Boys Podcast since 2007. As of April, 2020 there are more than 315 episodes available as a free download through iTunes and many other podcast streaming services. (Read more about how to listen to the show.)
About the Bowery Boys Podcast
We started the podcast on a whim as a fun project during the summer of 2007. We both had some amateur radio experience in our past (Greg in college in Missouri and Tom in high school in Ohio), and we'd talked for years about producing some sort of fun New York-related radio show. When Greg purchased a new laptop in 2007 that included "Garage Band" (an audio editing program that makes podcast production possible), we decided to give it a whirl and recorded our first show with a cheap karaoke microphone that Tom pulled out of the closet. (That show is no longer available due to serious quality concerns.)
Thirteen years later we're having more fun than ever recording episodes that help tell the fascinating story of New York. Read more about the show here.
If you enjoy the show, we encourage you to join us on Patreon. Every donation, no matter what size, helps us pay for new research material and recording equipment, and cover production expenses . Many thanks for your generosity.
About the Bowery Boys Blog
This blog is written and maintained by Greg. It's intended as an additional resource for the podcast, but also as a stand alone source of entertainment and information. Our audience is anyone interested in New York's fascinating history, from native New Yorkers to those who hope to visit one day.
There are a great many other websites (please see the blog roll) that provide far greater depth on these subjects and we greatly encourage you to peruse them for more information. As a reporter of history, Greg hopes that something he says or writes will encourage you to look further into the various places and people of New York City.